License information
From 2008 the ODEON installation comes with an R6 smart dongle. The R6 smart dongle is customized with the name of your company/institution and country to be displayed in the program and on all graphic presentations from the program.
You can use the dongle with the ODEON software installation on several computers also on laptops or at your customers' offices for a period of time, as long as the license is used by your company/institution with base in one country.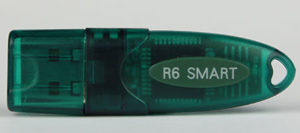 ODEON does not require a serial number to operate. Calculations can be performed as long as the R6 smart dongle is plugged in the PC. This means that ODEON can be installed at a number of PCs but only the PC with the R6 smart dongle attached is able to carry out calculations.
If ODEON needs to be run by multiple users at the same time in a company, extra dongles can be purchased at 1/3 of the main commercial license price or 1/10 of the main educational license price. Remote connections are not allowed, for details on the license terms please click here.
Please see here for analytical prices.
Read more about the R6 smart dongle here.