Normal licenses of ODEON are meant to work only locally, with the same PC that operates the software. So with these licenses, server installation or remote desktop control is not possible.
Do you want to work with ODEON from different locations? You can consider our Remote Desktop addon.
Since Autumn 2020, you can purchase remote-desktop addons for any ODEON edition for the price of two extra licenses. Please see our price list for details.
Remote desktop was implemented after the launch of ODEON 16, so you will need to update to the latest patch.
The remote desktop solution allows working with ODEON from a distance. Here are the most important remarks:
1. You can use any PC as the main workstation, where ODEON is installed and the dongle is plugged in.
2. You can establish a remote connection from any other PC to the main workstation, via the internet.
3. Only one PC can connect to the main workstation at a time, which means only one user can work with ODEON. 
4. A sufficiently fast internet connection is required. 
5. You can also perform measurements via remote desktop. In this case, ODEON will use the input/output audio hardware of the PC being used to access the main workstation remotely. However, the audio hardware needs to be set as default.
Remote Desktop VS Extra licenses
Remote Desktop is intended for those who want to perform ODEON simulations from different locations, and transferring a physical dongle becomes problematic.

Remote Desktop might not be beneficial when the internet connection is not fast. 

If you make measurements in offline locations, you should obtain extra licenses instead (or use the main dongle). 

Extra dongle licenses can be carried by the user in any offline location both for simulations and measurements. 

Extra licenses can be used totally independently from each other, by an equal number of users. Therefore more ODEON work can be carried out simultaneously. 

A Remote-desktop Addon for any ODEON Edition costs two times an extra dongle license. Therefore, adding Remote-desktop to a first license will cost the same as if you a first dongle license, plus two extra – 3 dongles in total.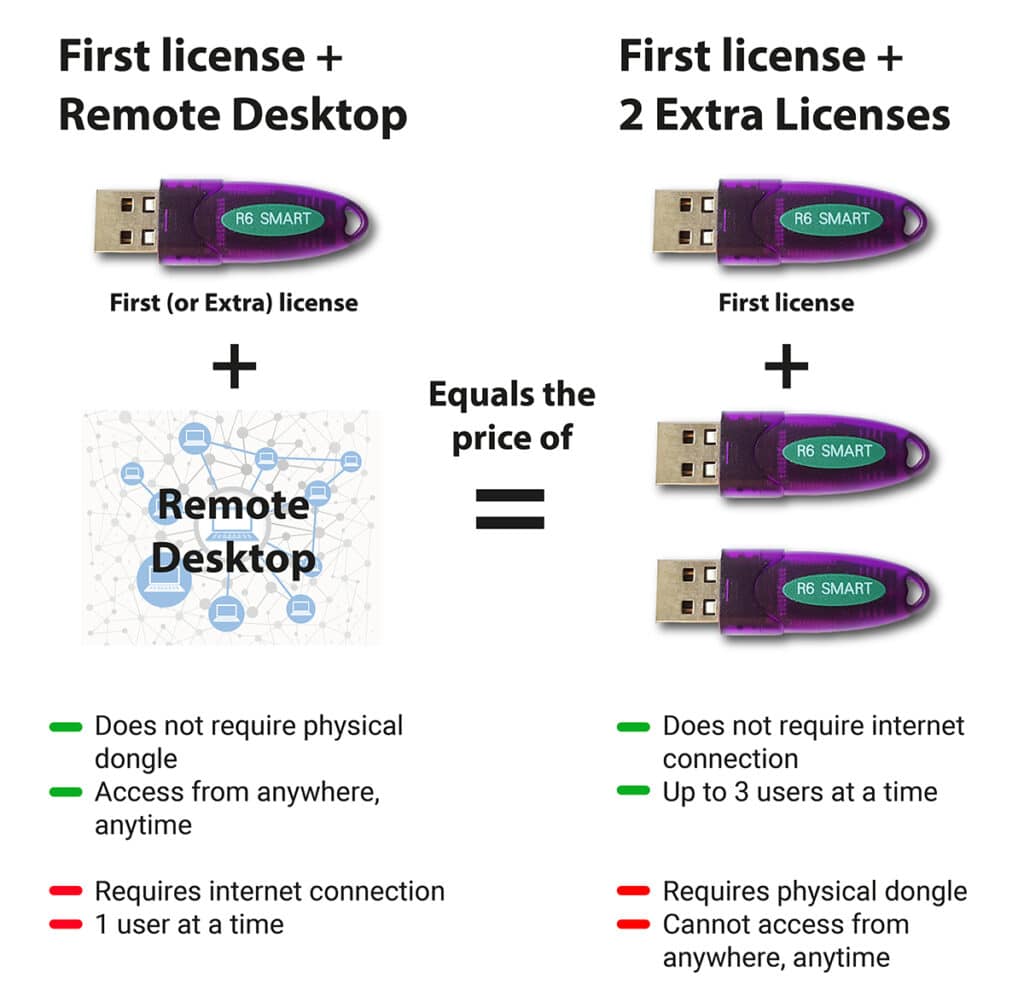 NOTE: Any ODEON license (First, Extra and Remote Desktop) is strictly connected to the country where it is registered. If a company holds offices in multiple countries, a new First license is needed for each country where the legal registration address exists. Please read more in the End User License Agreement in the manual.
Still have questions? Please feel free to send an email to sales@odeon.dk.
For general ODEON system requirements, visit this page.