"The Odeon Omni is a great new tool for measuring room acoustic parameters"
"The Odeon Omni is a great new tool for measuring room acoustic parameters. This lightweight, wireless source in combination with the ODEON software enables accurate and time efficient measurements. I believe that it is very convenient and recommendable."
Erik Arvidsson, Acoustic consultant
"We are extremely happy with our Odeon Omni"
"We are extremely happy with our Odeon Omni (model number 001). Working and traveling internationally, the Odeon rucksack has become our standard measurement pack, holding everything from the Odeon Omni to the sound level meter and all other bits and pieces required. And so far it has passed all airport security checks with no problem…!

The lightweight source is powerful enough to do even large concert halls of 1500 or 2000 seats without any problems. And the entire measurement kit is portable, even as hand luggage on airplanes and runs on batteries. What a difference to the old flight cases and we are looking forward to more measurements…!"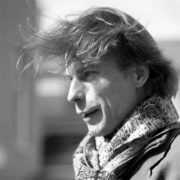 "Highly skilled customer support"
"It is great to be able to reach out to highly skilled costumer support like this, really appreciated!"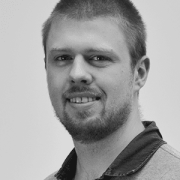 "ODEON is a well-functioning software"
"We have used ODEON for several rooms now, and the simulations have come out truthfully, and on the safe side. So congratulations and thanks to the Odeon team for a well-functioning software."
Niels W. Adelman-Larsen, Founder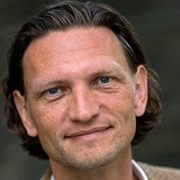 "ODEON in everyday acoustic design"
"When we got our first performance space design project, it was clear to us that we needed a tool to estimate the room acoustics performance, and so we bought our first version of Odeon. That was in 1992, and we have used Odeon ever since.

We use Odeon for all kinds of room acoustics design projects and research, everything from opera houses to school classrooms and speech intelligibility simulations in metro tunnels, and it has proved to be a very reliable partner, where you can easily test "extremes" and in this way verify your design.

For us Odeon is our trustworthy partner that tells us what we are doing, provided we ask the right questions. As with all simulation, the GIGO principle is still valid (GIGO = Garbage In, Garbage Out)

Also, as we have been using Odeon "from the beginning", we also greatly appreciate that we are able to communicate new ideas to the Odeon team and sometimes even see them implemented."
Henrik Möller, senior acoustician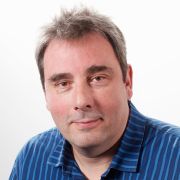 "An indispensable tool for our consulting and research duties"
"At Patagon Acoustics, we use ODEON for realistic auralizations in our lab. This capability has empowered our clients at the time of taking decisions about their project, whether building from scratch or during a renovation process. The people at ODEON are constantly improving the software and adding capabilities to it. It has become an indispensable tool for our consulting and research duties."
Fernando del Solar Dorrego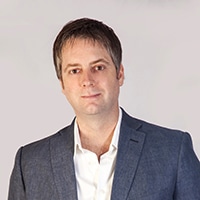 "ODEON helps Music Technology students learn about acoustics"
"Rather than learning from a theoretical perspective alone, it is much easier for students to understand the effects of acoustical structures and treatments by creating and exploring realistic simulated examples. Because our students are studying Music Technology, the ability to hear auralization differences in ODEON Auditorium is very important. ODEON is central to our teaching of acoustic principles, but also to the development of skills in modelling, simulation, and analysis that are a key part of employment in the acoustics profession. Using the available tools, the students learn how to design high-quality spaces for musical performance, recording, and listening. Our teaching would not be as effective nor as engaging without ODEON."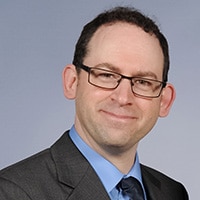 "ODEON has served our needs very nicely…"
"I'm very impressed with their architectural acoustics model.  After carefully considering three or four similar packages, we (PB, now WSP) decided to standardize on the ODEON Industry Version for all our US offices. It's served our needs very nicely since then."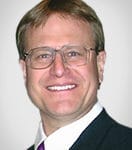 "I had no hesitation in selecting ODEON"
"I have been using Odeon and other room acoustics modelling packages throughout my 15 year career. When the time came to choose a package for my own company to use, I had no hesitation in selecting Odeon.

I've always found the software very intuitive to use, and after a much appreciated hour long refresher session over Skype had no problems creating a model even after a 5 year break from Odeon. In fact my biggest challenge was learning how to use Sketch Up to create the model geometry!

There are clear benefits to us as consultants in being able to accurately model and predict complex and large volume spaces, but the benefits to our clients are immense too. Not only can we optimise treatment solutions to reduce costs, we can also auralise different options so that our clients can understand the implication different options without needing to speak the "language" of acoustics. "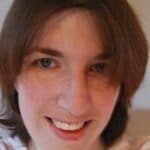 "Powerful auralisation tools in ODEON"
"Our society was asked to create a big rehearsal room for a 100+ man wind instrument orchestra. The restraints were to leave the wall architecture untouched, and use a material with a wood finish.

The room had to have a quite strict reverberation time requirement (between 1,2 and 1,5 sec) and a good STI value, also it had to sometimes accommodate an audience so acoustic parameters for it had to be at least decent.

We managed to produce a good simulation thanks to Odeon. An auralisation was produced for the client, and it was very good to make the client feel directly the difference in acoustics, it gave strength to our modification proposals , and made more complex parameters easily understandable, in the end the client was capable of fully understanding the enhancement choices we made and their effect on the acoustics of the room."
Matteo Novembri, Advanced Technologies S.r.l.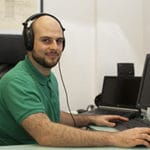 "A tool for architectural research and education"
"I have been using ODEON software as an educational and research tool at the Department of Architecture and Industrial Design of the Second University of Naples (Italy) since 2003.

In graduate courses I offer model assigned projects using ODEON to my students and I have found it very intuitive and simple to use. Using this software, students are interested in learning architectural acoustics.

I also use ODEON in research on the acoustics of the ancient theatres and historical buildings, as well as for the design or improvement of acoustic spaces. Such a project is the acoustic correction of classrooms using green materials."
Prof. ing. Gino IANNACE phd, Department of Architecture and Industrial Design
"ODEON for comprehensive acoustic calculations"
"Saint-Gobain chooses ODEON to carry out comprehensive acoustic calculations in order to evaluate the performance of Saint-Gobain products.

ODEON appears to be a flexible program that evaluates both transmission and absorption of products in real configurations. Then, reverberation time and sound pressure levels can be obtained for any position inside rooms. Many types of CAD files can be imported (.3ds, .dxf etc…).

Finally, auralization can significantly increase the feeling of immersion and improve interaction accuracy in virtual environments by providing spatial feedback and complementing visual information."
"ODEON for industrial and room acoustics"
"ODEON is a suitable tool for prediction of acoustic adjustments in industry. The selection of noise sources as well as the possibility of assigning transmission indexes to the bounding wall setups are excellent tools for industrial and building acoustics.

ODEON successfully predicts the room acoustic parameters described in the ISO 3382-1,2,3 standards. We use it in solutions for the acoustics of muster areas.

As for the visualization facilities available, 3D Billiard is a brilliant tool which gives an idea of the impact of the geometry of the room for spreading the sound and its reflections.

ODEON is also suitable to explain the principles of room acoustics in the educational process, when the term "Room acoustics" becomes a really interesting subject for students of architecture and civil engineering."
Martin Jedovnicky, AkuDesign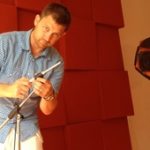 "Gradual learning curve and reliability"
"As an acoustical software package, ODEON stands out for its gradual learning curve and reliability.

Thanks to the flexible user interface and variety of data presentation options, it easily integrates into project workflows. Clients definitely appreciate the graphical presentation of results—it's often difficult to adequately describe sound with words.

The new measurement system very much differentiates ODEON from the competition and provides valuable insight into appropriate modelling parameters.

I'm excited to see what the ODEON team cooks up next!"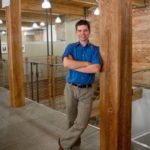 "To me, ODEON is an indispensable tool both for general room acoustics and for performing-art spaces in particular. So far its development has proved to fit our growing demands in design projects.

Every new feature also tends to open new doors in acoustic research. As an example, the room acoustic parameter list tool that came with version 11 allows us to define our own parameters for advanced room acoustic studies."
"ODEON as a research tool"
"As we all know there are so many acoustical parameters for designing a hall and they cannot be predicted by formulas. Therefore, design software has become an important and useful tool.

ODEON software has been a great help in simulating the acoustics of a complex geometry within a short period of time. ODEON is a good educational and research tool for our students as well as for my professional colleagues.

Due to the ODEON software, students are now more interested in learning architectural acoustics than before."
Prof. Jiqing Wang
Shanghai University, China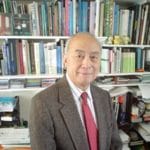 "ODEON – a precondition for good acoustics"
"In our work with the new Oslo Opera, Odeon has been of decisive importance, and it has been a great support for our evaluations and recommendations.

I think we can say that Odeon has been one of the preconditions for obtaining the good acoustical conditions, with which we have succeeded."
"Efficient data-exchange for beam steered arrays"
"We are very pleased with the Odeon interface; it's very elegant, accurate and simple to use.

The ability to import multiple XML files into Odeon at once means that the whole process is very efficient and that you do not need to repeat the work done in our AXYS® Digital Directivity Analysis (DDA) software once again in Odeon."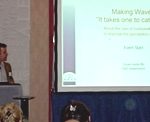 "Complex geometry made simple"
"Last week at Forum Acusticum I bumped into Gry Bælum Nielsen from ODEON. We started discussing how different room acoustic simulation software handle complex geometries. After she'd claim that such process in ODEON is as simple as clicking a button, I had to try it for myself.

In case you have never spat blood and shed tears over this yourself, it is worth noting that in many commercial software handling complex geometries is every modeller's nightmare. You either have to enter vertices, edges and faces manually (which is literally – torture) or deal with issues such as holes and overlapping faces.

So I made a deal with Gry; I will challenge ODEON with any complex geometry I wish, and if it instantly works as promised I will write her a testimonial. After lunch I felt creative, and so I designed some strange looking building in Trimble SketchUp, which can be at best characterized as some twisted hybrid between a museum, concert hall and the fuselage of a 747. The world should be thankful that I am not an architect.

Back to our experiment, I've really invested a lot of energy (not easy after a conference lunch) in making the geometry complex and confusing to human beings and machines alike. The model was finished, and guess what, at a click of a button ODEON imported it. A cup of tea and a few clicks later, the model was up and running with wall materials and multiple sources.

So, as I am a man of my word, here is my testimonial: ODEON handles complex geometries like no other acoustic modelling software I have encountered; it is quick, simple to use and most importantly: trouble-free. Very well done."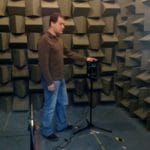 "Public address and voice alarm systems"
"Atkins has used Odeon to assess speech intelligibility performance of PA/VA systems of various stations and airports (Dubai Metro Stations, Bond Street Extension, Blackfriars Stations, Jeddah International Airport are among our projects with Odeon).

We have also used array loudspeakers in our Odeon models of stations and airports successfully. Similarly, Odeon is used to assess the sound and performance quality of spaces dominated by speech and music.

There is a growing demand to assess the acoustical parameters subjectively. More clients are requesting auralizations of the rooms. With its high quality auralizations, Odeon is a powerful tool to show the relative differences between various design options.

Atkins Acoustics collaborates with architects, engineers and local authorities on a variety of projects using Odeon for acoustics modelling and performance analysis of various rooms: open plan offices, classrooms, atria, cafeterias, media rooms, performing spaces, recording studios, stations, and airports."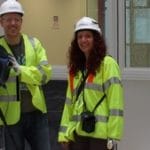 "Realistic listening stimuli"
"In our research, Odeon software has been validated as a powerful tool for audiological research, in particular to evoke a variety of virtual acoustical scenarios, allowing to test in a flexible way people's ability for sound source localization and to assess binaural speech intelligibility in different kinds of rooms.

High quality auralisation, with the option to incorporate any measured or simulated head related transfer function together with a headphone filter, allows for a user friendly preparation of very realistic listening stimuli."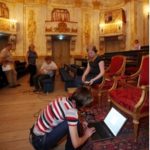 "ODEON makes design engineers into acousticians"
"I have bypassed media management to my working group so everyone can see Odeon tutorials on YouTube. I am very passionate on this matter and have heard myself say: "The people working with Odeon need full media access – an acoustician who cannot receive streams or send and receive movies and audio just doesn´t work .. get it sorted."

Our design engineers are able to make complex Odeon models two days after they open the program the first time. After three days they can start simulating acoustics.
After one month I can give them an assignment with a case number and an acoustics requirement, and I will get a report on a room with a reverberation time meeting the requirement, sensibly placed absorbers and lots of screenshots of the grid and curves. E.g. of a class room where 75% of the floor area meets an STI > 0.6.

I only need simulating special cases and special circumstances with Odeon these days, the rest of the room acoustics is QA, sales and general phrases beginning with "Also try to…" ."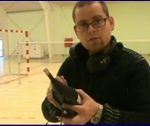 "Listen to the acoustic effect of design decisions"
"The Oslo Opera House has been widely praised for its acoustics by singers, musicians, conductors, audiences and critics.

Arup Acoustics used Odeon to analyse and refine the acoustic design of the main opera theatre.

Over 200 iterations of the model were studied, enabling efficient design review and development. Arup also used the auralization output capabilities of Odeon to listen to the acoustic effect of design decisions."
"The all-round acoustics tool"
"The efficient auralisation tool allows us to demonstrate the effect of proposed acoustic treatments to our clients and architects.

We use Odeon not only for speech and music auditoria; but for tasks as diverse as estimation of noise levels and ease of communication in large traffic terminals and foyer spaces, for revealing echoes in auditoria and for checking coloration phenomena in small sound control rooms.

In such cases, it is not only the calculated numbers which are important; but also the efficient auralisation tool, which easily allows us to demonstrate the effect of proposed acoustic treatments to our clients and architects."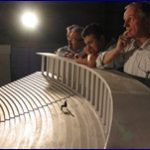 "Learn acoustics with ODEON"
"I have been using ODEON software as an educational and research tool at Middle East Technical University since 2003. In graduate courses I offer at The Department of Architecture students model assigned projects using ODEON.

Over the years I have witnessed students with limited acoustical background, to my surprise, excelling in grasping room acoustics concepts like reverberation, clarity, lateral fraction and mastering acoustical modeling in one semester.

I believe this is an indicator of its effectiveness and power as an educational tool. Mechanical engineering seniors taking acoustics as an elective course also use it in projects as a partial requirement of the course.

I have also extensively applied ODEON in research involving prediction of acoustical characteristics of ancient dome type structures like mosques and Turkish baths and of disproportionate spaces like underground metro stations. ODEON has proven to be a viable research tool due to its flexibility and efficiency in modeling and analysis."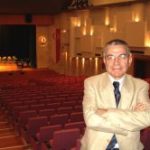 "ODEON for performing arts buildings"
"Odeon is a very important tool for us when working on Performing Arts buildings.

It enables us to gain a deeper understanding of the acoustical performance of a space at the design stage than we could do by any other means.

This is particularly important when we are working on new and innovative room shapes for which no precedence exists."