ODEON Installations & Updates
The latest version 15 includes several new features, which you can read more about on the product pages.
Please note: ODEON is meant to work as a locally installed application. This means that server installation or remote desktop control are not possible. Read more here.
Installation of ODEON is done in two steps: First, you need to make sure your dongle is up-to-date, then you can install ODEON on your PC.
Step 1: Make sure your dongle is up-to-date. 
The full ODEON installation runs only with a R6 smart dongle, which you receive with every new license.
The dongle needs to be up-to-date with your ODEON installation. Click Tools>License information to check which version your dongle is valid for.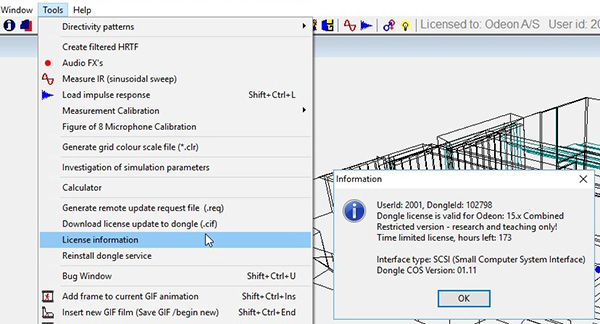 If your dongle is valid for the installation on your PC then high five! If not, please update your dongle.
Step 2: Install ODEON 15.15 on your PC
The full installers 15.15 are available below. Download the file, unzip it, and run the executable file to Install ODEON in your PC. For ODEON Auditorium and ODEON Combined you may wish to install WavePack I & II which can be found on this page.
When installing 15.15 on top of your current 15.xx version, make sure to backup your room models.
Install the latest service release 15.15
This applies if you have already a full 15 version installed first.
Download and run the relevant patch e.g. Odeon15CombinedInstall_15.15Patch.exe.
Running the updater will not erase your room data.