The ODEON free demo version allows you to try all the features available in the ODEON room acoustics simulation and measuring software, using the geometries supplied with it.
Please note that you cannot perform calculations with your own geometries.
This version should only be used for evaluation purposes and not for any commercial application.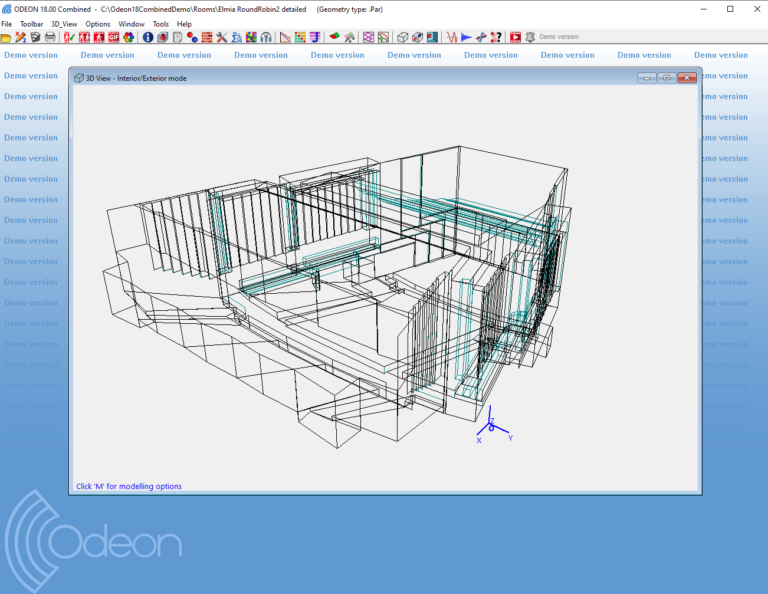 What you can do with the Free Demo Version
Try out ODEON on a number of different rooms, from concert halls to industrial areas
Investigate all the results calculated from simulations and measurements in the supplied rooms
Listen to the simulated acoustics
Define new sources and receivers
Change material data (absorption, scattering, transmission)
Test import of own geometry: importing geometry and displaying it in 3D view mode in order to verify that your CAD files (.dxf, .3ds, .stl, .cad) or SketchUp models (.skp) can be properly imported
Includes reference examples from the 2nd and 3rd International Round Robin on Room Acoustic Computer Simulations allowing comparison between measured and simulated results
Limitations in the Free Demo Version
New/own geometries can only be displayed in 3D view mode. The free demo version does not allow to calculate any acoustical results on new/own geometries.


Measurement results are only displayed for the 1000 Hz band.
Please take some time to learn the basic functions in ODEON by studying the ODEON Combined Quick Start Guide, or watching our video tutorials. The ODEON manual is available when using the Shift+F1 shortcut from within ODEON as well as from the Windows Start menu.
Once the free trial of ODEON is installed, the F1 shortcut provides context-sensitive help on the currently active display in the ODEON program.
Not all browsers can be used to download. If it does not work, try another browser.