Soundscape in open plan schools - Ørestad Gymnasium
The acoustics in the award-winning project of Ørestad Gymnasium in Denmark (Gymnasium in Danish means college or upper secondary school), were designed by A. E. Wiuff in cooperation with Odeon A/S . The architects were 3xNielsen.
Using Odeon auralisation, it was possible to present different scenarios and have a group of architects, engineers and future users evaluate the acoustic qualities in different zones and in-between the zones.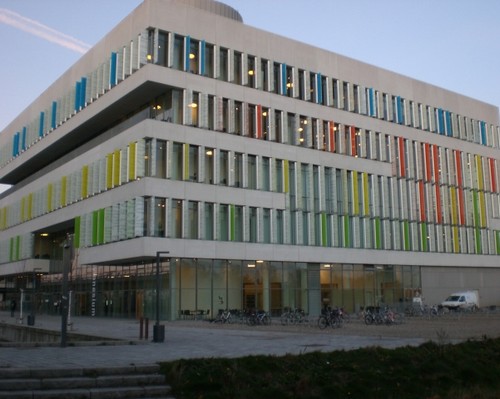 The wire frame model was imported with layers from the architects' 3D model.
When several teaching activities are integrated into the same volume it is evident that sound insulation between the different parts will be poor. A number of volumes are coupled to one another in a complex manner and diffuse field theory can not be used. Therefore rules for reverberation time alone are not representative enough to describe the acoustics in the open plan space.
Ørestad Gymnasium is a compromise between inspiring architecture and little acoustic privacy in the learning environment. A good way to control this complex assignment is to present the users to different options with the means of auralisations (see below).
The plenty organic forms could give problems with focusing, but in this case the organic forms are mostly convex and improve the acoustics by avoiding some echoes from parallel walls.
Receiver location: Canteen area, ground floor
Canteen area, ground floor
play_circle_filled
pause_circle_filled
Source-receiver distance: 8.73 m
Receiver location: Second floor​
play_circle_filled
pause_circle_filled
Source-receiver distance: 14.04 m
Receiver location: Third floor
play_circle_filled
pause_circle_filled
Source-receiver distance: 17.91 m
Receiver location: Fourth floor
play_circle_filled
pause_circle_filled
Source-receiver distance: 30.47 m