Development of the ODEON Room Acoustics Software
The ODEON project was initiated as a cooperation between the Technical University of Denmark (Dpt. of Acoustic Technology) and a group of consulting companies in 1984 with the purpose of providing reliable prediction software for room acoustics. The years invested in the ODEON development has provided a reliable yet easy to use room acoustics prediction and measuring software. Today ODEON is used for a wide range of applications.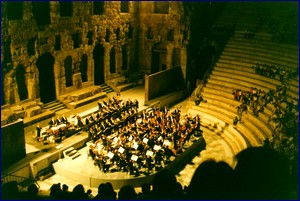 The first versions of ODEON were targeted at solving acoustic problems in concert and opera halls. The software was named after the ancient Greek odeon, that is said originally to have been roofed.
Features and updates from previous versions
2020
Release of Version 16 with hedgehog graphs, support for ambisonic measurements, 3D matrix source-to-source calculations, and source macros. Additionally, improvements to reflectograms, 3D reflection paths, decay curves and sweep-measurement tool.
2018
Release of Version 15, introducing 3DGrids with contours, interpolated maps, labelled scales, audio effects for auralisation signals, and multi source/signal auralisation expert. Also, dimension units (metres, feet, inches…) can be chosen by user, allowing positions/lengths to be entered (and being displayed) in the chosen units.
2016
Release of Version 14, with improved calculation speed, extended capabilities in grids (vertical mappings, grouping of grids etc.), statistics in multi-point measurements, headphone frequency response compensation (inverse filtering) and much more.
2015
Release of Version 13, with an improved user interface, a material optimization tool, enhancements in the measuring system and many more features.
2013
Version 12 is released with an impulse response measurement system integrated into the software. With this version, projects become more efficient than ever since measurements and simulations are compared side by side throughout the whole process.
2011
The release of ODEON 11.0 with increased calculation speed and a new acoustic parameter list for selecting or creating the desired result-parameters.
2010
The SU2ODEON Plugin for Google SketchUp was developed.
2009
Release of ODEON 10.0, which includes support for array loudspeakers and beam steered arrays (Auditorium and Combined editions), and calculation of one and two point diffraction around objects according to A.D. Pierce. There are also improvements to the Extrusion modeller and the ODEON editor has been greatly enhanced.
2008
Odeon A/S moves to new premises at Scion DTU and starts selling the software directly with Brüel & Kjær as secondary sales channel. A new type of hardware lock is introduced for upgrades to version 9.1 and 9.2
2007
Release of ODEON 9.0. This version includes transmission through walls and improved diffraction handling. Professional audio formats are supported and the quality of auralisation is improved. A new 3D Direct Sound display is particularly useful for the design of loudspeaker systems.
2005
Release of ODEON 8.0. This version includes new calculation principles, namely the Reflection Based Scattering method and Oblique Lambert for better handling of scattering. Support for the new open Common Loudspeaker Format (CLF).
2004
Release of ODEON 7.0, including an initial version of the ODEON Extrusion modeller for graphical modelling of geometries, the ODEON GIF animation Workshop for editing of animations, Surround auralisation based on Ambisonics Techniques, multi surface source for improved modelling of industrial noise sources and a few improvements to the parametric modelling language.
2003
Release of ODEON 6.5, Intensity decay curve for echo tracking, graph for comparison between measured and simulated parameters, improved modelling language for faster modelling, support for layers in the geometries when modelled in ODEON's own format and when imported from a CAD drawing.
2002
Release of ODEON 6.0, with improved geometry debugging, streaming convolution for nearly real-time auralisation, enhanced tools in Quick estimate, Directivity plot editor. New utility for calculating delays and levels in a loudspeaker system according to the HAAS effect, etc.
2001
Release of ODEON 5.0, with improved plotting, printer dialogs etc. Cooperation agreement with Brüel & Kjær about selling ODEON worldwide.
2000
Release of ODEON 4.2 with improved calculation algorithms for early reflections. Angle dependent absorption and OpenGL displays for improved visualisation of the rooms. The concept of Acoustic Colours is introduced to visualise the acoustic properties of materials in a room model. A material editor is added to the material list. The modelling language is extended, and it is now possible to model shapes like Box, Cone, Cylinder, and Dome using a single line of code. Coordinate manipulation is extended in order to allow flexible use of these shapes and reuse of other geometries.
1999
Release of ODEON 4.0 which includes desktop auralisation.
1998
Introduction of parametric modelling language and further development of ODEON 3.x.
1997
Verification of ODEON 3.0, conducted by ELSAM PROJECT DK. Release of ODEON 3.1 for Windows95/NT.
1996
Project with ELSAM PROJECT DK developing algorithms for modelling of large sound sources for use in industrial environments.
1995
Vector based scattering was implemented as a more efficient method in ray tracing. ODEON 2.5 participated in the 'International Round Robin on Room Acoustical Computer Simulations', conducted by PTB in Germany (Results were presented at the ICA conference in Trondheim 1995). ODEON was one of three programs out of 16 to be judged 'Unquestionably reliable in the prediction of room acoustical parameters'.
1994
Release of ODEON 2.5, allowing multiple active sources. Release of ODEON-Sound software for auralization using hardware from t. c. electronic (DK).
1992
Release of ODEON 2.0, introducing the Secondary source method for late reflections.
1991
Release of ODEON 1.0 and test with measured data (Royal Festival Hall, London).
1990
Use of ODEON in architectural competition for design of an opera house (Compton Verney, winning proposal by Danish architect Henning Larsen).
1989
Introducing hybrid models for more reliable results and faster calculation. Ray tracing was combined with image source methods, different for early and late reflections. The cuboid net method was introduced to accelerate the ray tracing process.
1984
Development of ray tracing models.