Features and Specifications
There are many features in ODEON, some evident and others a bit more hidden. We have displayed key features here, but if you are looking for something specific please write to us on info@odeon.dk or support@odeon.dk and ask. 
Measure the acoustics in a 3D computer model. Imported models can come from a range of different software like SketchUp, Rhino, AutoCAD, etc.
See tutorials for some of the import options here.
You can not only simulate, but also measure real room acoustics with an accurate sweep method system. The sweep method attenuates the background noise drastically, making it much better able to get good results. 
See videos on the measuring system here.
Visualisations of acoustics can be useful to get an understanding of the geometry in question. In ODEON there are different visualisation options. Either billiard balls (as shown in the video), ray tracing, color maps and more. This can also be used to explain the acoustics to people without prior understanding of acoustics. 
Acoustic Surface Properties
For all surfaces in the model of a  room or other geometry, you can enter the acoustic properties. Choose absorption coefficients from our large library of materials, or set your own values. Additionally, you can set scattering coefficients, transparency and reductions/transmission index for all surfaces.  
Videos about materials and wall types here.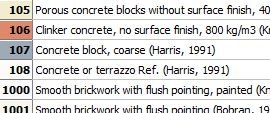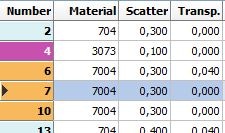 Genetic Material Optimiser
It might be tricky to set the correct absorption coefficients for an existing room, so ODEON has made a tool that can optimize the coefficients you choose to bring the room model's acoustics close to reality. By using the acoustical parameters you choose, together with the error, the tool uses a genetic algorithm to optimize the absorption coefficients for the surfaces in the room.
Compare Measurements and Simulations
As you can both measure and simulate the acoustics in ODEON, it has been made possible to easily compare the two. This can also be done with measurements made in another way or with another software. This is good for validating your model when working with acoustical optimisation projects in existing rooms.
The best tool for an overview of the acoustics of a room or space is the color maps (or color grids). Get the acoustical parameters displayed over surfaces, and thereby get a very precise picture of how the geometry affects the acoustics. 
See videos on color grid maps here.
Acoustics are about sound, and in ODEON you can get to listen to the acoustics in the model. Choose from speech, instruments, or other audio files, and listen to how it would sound at the location you choose in your model. This can also be a good way of presenting acoustics to people not familiar with acoustic parameters.
Videos about auralizations here.
Copy+Paste Results into Reports
Often you need your results outside the ODEON software. Therefore ODEON makes it easy to copy-paste graphs, numbers and auralizations to where you need them. This could be for further calculations of the numbers in Excel or to include in a report or PowerPoint presentation.
Transmission mixed with Room Acoustics
In ODEON, you can mix room acoustics with transmission. Set up the reduction index for a wall or other surface, and let the transmission of sound through that surface become part of the acoustic calculations. 
Videos about transmission here.
If working with reflectors, the Reflector Coverage option in ODEON is very convenient. See how the position and angles of the reflectors will distribute the sound, and where it might be lacking. 
Videos about reflector coverage here.
Features translated to Persian (Farsi) by a generous user
Here is an dropdown overview with the Specifications in text and formats.